SFCU Debit Cards: Convenient, with Great Features.
Instead of writing a check when making a purchase, simply tap, insert or slide your debit card, choose "Credit" and sign for your purchase. Or you can choose "Debit", request additional cash and punch in your "PIN". The funds are withdrawn directly from your checking account.
If you need extra cash, you can use your ATM card (Cash card) or your Debit Card (Check & Cash card) at an Automated Teller Machine (ATM).
*Some restrictions may apply. When using your SFCU Visa Debit card or ATM card you are allowed to get up to $500 cash in a 24 hour period. This $500 fraud limit is for the safety of our members in case their card is stolen. SFCU has a $2,500 daily limit on purchases made at retail stores using your SFCU Visa Debit card or ATM card. Daily ATM fraud limitations may be different at other financial ATMs.
Debit Card - Extra Rewards Program
How to Access: Log Into Online Banking or Our Mobile App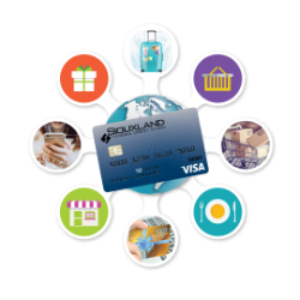 Earn Points and Redeem For:
Merchandise
Travel
Gift Cards
Cash Back